Haunted Longmont
Haunted History and Colorful Coloradans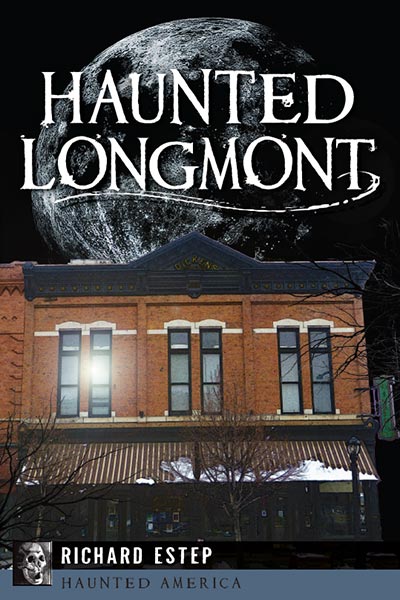 Longmont is a city warm and friendly by day, but overrun with restless spirits by night. With namesake Long's Peak looming over it, the town's chilling history casts a specter over its present. The gruesome 1864 Sand Creek Massacre may be connected to the murder of a successful local entrepreneur whose property is said to be haunted.
Though retail empire JCPenney outgrew its hometown, its legacy lingers in the form of the Phantom Lady. An airliner exploded in the night skies and led to the execution of a desperate criminal. Join paranormal investigator Richard Estep on his fifteen-year journey to reveal and document the interwoven, ghoulish tales of this colorful Colorado city.
Richard says:
Haunted Longmont chronicles some of the fascinating haunted history and colorful characters of my adopted American hometown. I left my English home county of Leicestershire, flew thousands of miles, and moved to Longmont in 1999, getting straight off the plane and going to the first available screening of the just-released Star Wars Episode I. Longmont has been good to me over the years, and its ghost lore has always fascinated me. Some of the locations whose tales are told in this book have been personally investigated by my team and I, which is still based in Longmont.
Chosen Charity: The Longmont Humane Society
The Longmont Humane Society takes care of animals in need, and they are the safety net which protects and shelters domestic animals, vaccinates, trains, educates, and does so much more. I will donate 10% of my royalties from every copy sold of Haunted Longmont to this very worthy cause.
Visit them at www.longmonthumane.org.
Release date: August 24, 2015